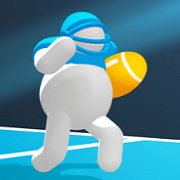 You need Adobe Flash Player to play Rugby.io Ball Mayhem.Click to use Flash
In Rugby.io Ball mayhem, you play American Football against many other players. You need to work with your teammates to take the ball to the end zone and score a touchdown. Avoid incoming tackles and keep the ball at all costs. This game has the graphics are cool, and the football gameplay is awesome.
Controls :
Hold left mouse button to sprint.
Tags :
19 Views

IFRAME_HTML

173 Views

IFRAME_HTML

80 Views

IFRAME_HTML

35 Views

IFRAME_HTML

84 Views

IFRAME_HTML

177 Views

IFRAME_HTML

159 Views

IFRAME_HTML

238 Views

IFRAME_HTML

3123 Views

IFRAME_HTML
173 Views

IFRAME_HTML

84 Views

IFRAME_HTML

621 Views

IFRAME_HTML

400 Views

IFRAME_HTML

1911 Views

IFRAME_HTML

1906 Views

IFRAME_HTML
159 Views

IFRAME_HTML

199 Views

IFRAME_HTML

278 Views

IFRAME_HTML

400 Views

IFRAME_HTML
177 Views

IFRAME_HTML

238 Views

IFRAME_HTML

1906 Views

IFRAME_HTML

1361 Views

IFRAME_HTML

2838 Views

IFRAME_HTML

1301 Views

IFRAME_HTML
19 Views

IFRAME_HTML

80 Views

IFRAME_HTML

569 Views

IFRAME_HTML

199 Views

IFRAME_HTML

278 Views

IFRAME_HTML