Rugby.io Ball Mayhem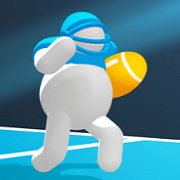 In Rugby.io Ball mayhem, you play American Football against many other players. You need to work with your teammates to take the ball to the end zone and score a touchdown. Avoid incoming tackles and keep the ball at all costs. This game has the graphics are cool, and the football gameplay is awesome.
Controls :
Hold left mouse button to sprint.
Tags :
47 Views

IFRAME_HTML

97 Views

IFRAME_HTML

158 Views

IFRAME_HTML

191 Views

IFRAME_HTML

164 Views

IFRAME_HTML

304 Views

IFRAME_HTML

879 Views

IFRAME_HTML
47 Views

IFRAME_HTML

61 Views

IFRAME_HTML

97 Views

IFRAME_HTML

158 Views

IFRAME_HTML

191 Views

IFRAME_HTML

165 Views

IFRAME_HTML

304 Views

IFRAME_HTML

880 Views

IFRAME_HTML

538 Views

IFRAME_HTML
46 Views

IFRAME_HTML

94 Views

IFRAME_HTML

157 Views

IFRAME_HTML

190 Views

IFRAME_HTML

163 Views

IFRAME_HTML

303 Views

IFRAME_HTML

878 Views

IFRAME_HTML

197 Views

IFRAME_HTML
608 Views

IFRAME_HTML

212 Views

IFRAME_HTML

979 Views

IFRAME_HTML

156 Views

IFRAME_HTML

507 Views

IFRAME_HTML

369 Views

IFRAME_HTML

225 Views

IFRAME_HTML

293 Views

IFRAME_HTML
46 Views

IFRAME_HTML

94 Views

IFRAME_HTML

157 Views

IFRAME_HTML

303 Views

IFRAME_HTML

878 Views

IFRAME_HTML

197 Views

IFRAME_HTML