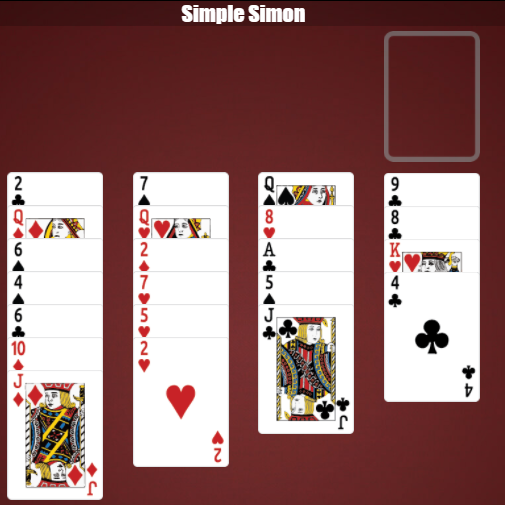 You need Adobe Flash Player to play Simple Simon.Click to use Flash
Simple Simon is an amazing card game. At the start of the game, all 52 cards are dealt face up to 10 piles. The objective is to build the tableau into 4 piles of 13 cards down in suit sequence from Kings to Aces. You need to make moves that will create other moves, even if these moves might not be optimal. Boost your brain power with this visual, auditory, and kinetic exercise. A simple yet fun memory game of colors and tunes. Have fun.
Controls :
Press and hold your left mouse button to move the cards.
Tags :
583 Views

IFRAME_HTML

214 Views

IFRAME_HTML

416 Views

IFRAME_HTML

264 Views

IFRAME_HTML

2741 Views

IFRAME_HTML

562 Views

IFRAME_HTML

208 Views

IFRAME_HTML

1496 Views

IFRAME_HTML

1233 Views

IFRAME_HTML

2763 Views

IFRAME_HTML
214 Views

IFRAME_HTML

214 Views

IFRAME_HTML

291 Views

IFRAME_HTML

899 Views

IFRAME_HTML

405 Views

IFRAME_HTML

952 Views

IFRAME_HTML

208 Views

IFRAME_HTML

633 Views

IFRAME_HTML

1495 Views

IFRAME_HTML

1232 Views

IFRAME_HTML
534 Views

IFRAME_HTML

505 Views

IFRAME_HTML

1104 Views

IFRAME_HTML

405 Views

IFRAME_HTML

952 Views

IFRAME_HTML

1759 Views

IFRAME_HTML

633 Views

IFRAME_HTML

1495 Views

IFRAME_HTML

1232 Views

IFRAME_HTML

2763 Views

IFRAME_HTML