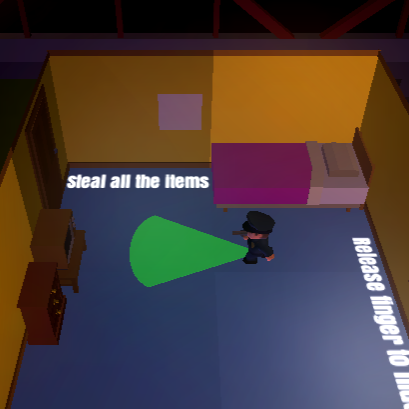 You need Adobe Flash Player to play Smart Looter.Click to use Flash
Smart Looter is a cool 3D stealth game. Your task is to be quick and sneaky and grab tons of loot by means of avoiding the sights of the police guards. If the police catch you, the robbery will fail. Move your character wisely or, pay attention to the security guard patrolling, they are very careful, don't let them find you. Collect all the items in the house you stole, you will complete the mission. As the difficulty progresses, the difficulty will increase, then you need experience and help. Will you become a master thief? Play and discover more.

The game has 50+ different levels are waiting for you in game with fun and beautiful graphics.
Controls :
Use left click mouse to control.
Tags :
48 Views

IFRAME_HTML

47 Views

IFRAME_HTML

172 Views

IFRAME_HTML

97 Views

IFRAME_HTML

128 Views

IFRAME_HTML

460 Views

IFRAME_HTML

145 Views

IFRAME_HTML

236 Views

IFRAME_HTML

344 Views

IFRAME_HTML

572 Views

IFRAME_HTML

356 Views

IFRAME_HTML
128 Views

IFRAME_HTML

460 Views

IFRAME_HTML

1613 Views

IFRAME_HTML

481 Views

IFRAME_HTML

424 Views

IFRAME_HTML

504 Views

IFRAME_HTML

882 Views

IFRAME_HTML

339 Views

IFRAME_HTML

581 Views

IFRAME_HTML

597 Views

IFRAME_HTML
172 Views

IFRAME_HTML

356 Views

IFRAME_HTML

1613 Views

IFRAME_HTML

878 Views

IFRAME_HTML

171 Views

IFRAME_HTML

491 Views

IFRAME_HTML

504 Views

IFRAME_HTML

304 Views

IFRAME_HTML

637 Views

IFRAME_HTML

891 Views

IFRAME_HTML
145 Views

IFRAME_HTML

295 Views

IFRAME_HTML

1527 Views

IFRAME_HTML

911 Views

IFRAME_HTML

873 Views

IFRAME_HTML

1834 Views

IFRAME_HTML

801 Views

IFRAME_HTML

1553 Views

IFRAME_HTML

3043 Views

IFRAME_HTML

1256 Views

IFRAME_HTML

2378 Views

IFRAME_HTML