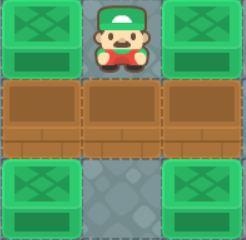 You need Adobe Flash Player to play Sokoban.Click to use Flash
Sokoban is a fun puzzle game. You need to move all of the boxes into the correct locations. Think ahead before making your moves as you will quickly become stuck as the levels get bigger and more difficult. Each level will save your moves so save as many moves as possible.
Controls :
Use the mouse o arrow keys to move.
Use U to undo a move or press the in-game icon.
Hold R to restart the level or press the in-game icon.
Press H to highlight the goal tiles.
Tags :
48 Views

IFRAME_HTML

47 Views

IFRAME_HTML

172 Views

IFRAME_HTML

97 Views

IFRAME_HTML

460 Views

IFRAME_HTML

450 Views

IFRAME_HTML

236 Views

IFRAME_HTML

344 Views

IFRAME_HTML

572 Views

IFRAME_HTML

356 Views

IFRAME_HTML
460 Views

IFRAME_HTML

450 Views

IFRAME_HTML

1613 Views

IFRAME_HTML

481 Views

IFRAME_HTML

424 Views

IFRAME_HTML

504 Views

IFRAME_HTML

882 Views

IFRAME_HTML

1355 Views

IFRAME_HTML

339 Views

IFRAME_HTML

581 Views

IFRAME_HTML

597 Views

IFRAME_HTML
1019 Views

IFRAME_HTML

586 Views

IFRAME_HTML

614 Views

IFRAME_HTML

1479 Views

IFRAME_HTML

801 Views

IFRAME_HTML

1553 Views

IFRAME_HTML

357 Views

IFRAME_HTML

1256 Views

IFRAME_HTML

2378 Views

IFRAME_HTML

876 Views

IFRAME_HTML
1355 Views

IFRAME_HTML

295 Views

IFRAME_HTML

1527 Views

IFRAME_HTML

911 Views

IFRAME_HTML

873 Views

IFRAME_HTML

1834 Views

IFRAME_HTML

801 Views

IFRAME_HTML

1553 Views

IFRAME_HTML

3043 Views

IFRAME_HTML

1256 Views

IFRAME_HTML

2378 Views

IFRAME_HTML