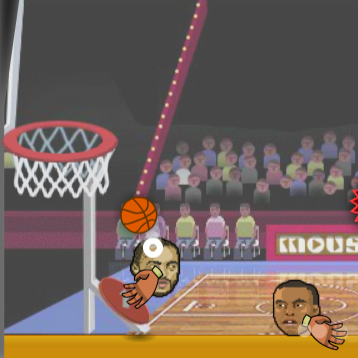 You need Adobe Flash Player to play Sports Heads: Basketball Championship.Click to use Flash
Sports Heads: Basketball Championship
Sports Heads: Basketball Championship is a basketball role-playing game with a simple style of play. You can play Sports Heads Basketball Championship game in two different game mode as twosome and single player. You can choose from one of the popular NBA teams such as Chicago, Atlanta, Cleveland or Miami. Try and anticipate the path of the ball and move your player in position to get the perfect shot. Swat the basketball into your opponents hoops as you try to beat the player. Have fun and good luck.
Controls :
Use arrow keys to move and jump.
Use the spacebar to hit.
Use a springboard for a super-jump, springboards take 5 seconds to recharge. Collect power-ups with the ball for special effects.
Tags :
48 Views

IFRAME_HTML

46 Views

IFRAME_HTML

169 Views

IFRAME_HTML

97 Views

IFRAME_HTML

455 Views

IFRAME_HTML

236 Views

IFRAME_HTML

344 Views

IFRAME_HTML

571 Views

IFRAME_HTML

355 Views

IFRAME_HTML
455 Views

IFRAME_HTML

1612 Views

IFRAME_HTML

481 Views

IFRAME_HTML

423 Views

IFRAME_HTML

504 Views

IFRAME_HTML

882 Views

IFRAME_HTML

339 Views

IFRAME_HTML

581 Views

IFRAME_HTML

597 Views

IFRAME_HTML
169 Views

IFRAME_HTML

355 Views

IFRAME_HTML

1613 Views

IFRAME_HTML

878 Views

IFRAME_HTML

171 Views

IFRAME_HTML

491 Views

IFRAME_HTML

504 Views

IFRAME_HTML

304 Views

IFRAME_HTML

637 Views

IFRAME_HTML

891 Views

IFRAME_HTML
1019 Views

IFRAME_HTML

586 Views

IFRAME_HTML

614 Views

IFRAME_HTML

1479 Views

IFRAME_HTML

801 Views

IFRAME_HTML

1553 Views

IFRAME_HTML

357 Views

IFRAME_HTML

1256 Views

IFRAME_HTML

2377 Views

IFRAME_HTML

876 Views

IFRAME_HTML
295 Views

IFRAME_HTML

1527 Views

IFRAME_HTML

910 Views

IFRAME_HTML

873 Views

IFRAME_HTML

1830 Views

IFRAME_HTML

801 Views

IFRAME_HTML

1553 Views

IFRAME_HTML

3041 Views

IFRAME_HTML

1256 Views

IFRAME_HTML

2377 Views

IFRAME_HTML