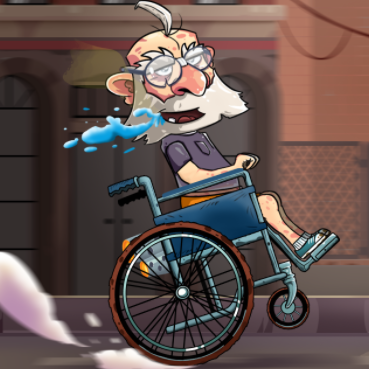 You need Adobe Flash Player to play Sticky Road.Click to use Flash
Sticky Road is a fun horror game inspired by the famous Happy Wheels. There are new features in this. You control an old man in a wheelchair through deadly traps, your task is to help your character survive as long as possible and reach the end of the level. To win the game you need to apply the physics you've learned to skillfully move the wheelchair successfully. You will encounter drag, thrust, or more scary things, you will lose if you encounter too many collisions, which makes your character exhausted and lose too much blood. Play and unlock more interesting character creation. The interesting thing about this game is that the completely new graphics bring a whole new experience. Combined with scary sounds that help your imagination fly, the stimulation is what makes this game attractive. Can you help the old man or the young man move without taking any damage? Play and practice super skills, you can play Sticky Road for free here. Have fun.
Controls :
Use WASD or arrow keys to control.
Tags :
47 Views

IFRAME_HTML

45 Views

IFRAME_HTML

168 Views

IFRAME_HTML

96 Views

IFRAME_HTML

454 Views

IFRAME_HTML

236 Views

IFRAME_HTML

344 Views

IFRAME_HTML

571 Views

IFRAME_HTML

355 Views

IFRAME_HTML
454 Views

IFRAME_HTML

1609 Views

IFRAME_HTML

481 Views

IFRAME_HTML

423 Views

IFRAME_HTML

504 Views

IFRAME_HTML

881 Views

IFRAME_HTML

339 Views

IFRAME_HTML

581 Views

IFRAME_HTML

597 Views

IFRAME_HTML
168 Views

IFRAME_HTML

355 Views

IFRAME_HTML

1609 Views

IFRAME_HTML

877 Views

IFRAME_HTML

171 Views

IFRAME_HTML

489 Views

IFRAME_HTML

504 Views

IFRAME_HTML

304 Views

IFRAME_HTML

636 Views

IFRAME_HTML

891 Views

IFRAME_HTML
1019 Views

IFRAME_HTML

586 Views

IFRAME_HTML

614 Views

IFRAME_HTML

1479 Views

IFRAME_HTML

801 Views

IFRAME_HTML

1553 Views

IFRAME_HTML

357 Views

IFRAME_HTML

1256 Views

IFRAME_HTML

2377 Views

IFRAME_HTML

876 Views

IFRAME_HTML
294 Views

IFRAME_HTML

1527 Views

IFRAME_HTML

910 Views

IFRAME_HTML

873 Views

IFRAME_HTML

1830 Views

IFRAME_HTML

801 Views

IFRAME_HTML

1553 Views

IFRAME_HTML

3041 Views

IFRAME_HTML

1256 Views

IFRAME_HTML

2377 Views

IFRAME_HTML