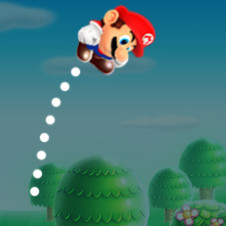 You need Adobe Flash Player to play Super Mario Run.Click to use Flash
In Super Mario Run, you control Mario by tapping as he constantly runs forward. You must jump over obstacles, water, and avoid the fire. You can also destroy some of the blocks to find additional coins. You run through each level and collect coins as you progress. Clear the 24 exciting courses to rescue Princess Peach from Bowser, waiting in his castle at the end. In challenge mode, compete against the stylish moves of other players for the highest score. The graphics of this game are fantastic bring a lot of fun when you experience.
Controls :
Left click to jump and click twice for a double jump.
Hold left click to float in the air.
Tags :
583 Views

IFRAME_HTML

214 Views

IFRAME_HTML

416 Views

IFRAME_HTML

264 Views

IFRAME_HTML

2740 Views

IFRAME_HTML

562 Views

IFRAME_HTML

208 Views

IFRAME_HTML

2763 Views

IFRAME_HTML
214 Views

IFRAME_HTML

213 Views

IFRAME_HTML

291 Views

IFRAME_HTML

899 Views

IFRAME_HTML

405 Views

IFRAME_HTML

951 Views

IFRAME_HTML

208 Views

IFRAME_HTML

633 Views

IFRAME_HTML
534 Views

IFRAME_HTML

505 Views

IFRAME_HTML

1104 Views

IFRAME_HTML

405 Views

IFRAME_HTML

951 Views

IFRAME_HTML

1759 Views

IFRAME_HTML

633 Views

IFRAME_HTML

2763 Views

IFRAME_HTML