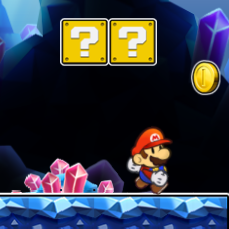 You need Adobe Flash Player to play Super Mario Rush 2.Click to use Flash
In Super Mario Rush 2, you guide Mario through each level when he moves forward automatically. You explore a variety of different worlds and collect gold coins as you progress. Don't forget to smash the blocks with questions marks on as they can contain awesome power-ups for you. There are more traps and dangers, challenge yourself or compete with your friends, pass through all maps. Have fun.
Controls :
Use left mouse button to jump.
Hold to stay in mid-air.
Tags :
48 Views

IFRAME_HTML

47 Views

IFRAME_HTML

172 Views

IFRAME_HTML

97 Views

IFRAME_HTML

460 Views

IFRAME_HTML

236 Views

IFRAME_HTML

344 Views

IFRAME_HTML

572 Views

IFRAME_HTML

356 Views

IFRAME_HTML
455 Views

IFRAME_HTML

1612 Views

IFRAME_HTML

481 Views

IFRAME_HTML

423 Views

IFRAME_HTML

504 Views

IFRAME_HTML

882 Views

IFRAME_HTML

1353 Views

IFRAME_HTML

339 Views

IFRAME_HTML

581 Views

IFRAME_HTML

597 Views

IFRAME_HTML
169 Views

IFRAME_HTML

355 Views

IFRAME_HTML

1613 Views

IFRAME_HTML

878 Views

IFRAME_HTML

171 Views

IFRAME_HTML

491 Views

IFRAME_HTML

504 Views

IFRAME_HTML

304 Views

IFRAME_HTML

1353 Views

IFRAME_HTML

637 Views

IFRAME_HTML

891 Views

IFRAME_HTML
1019 Views

IFRAME_HTML

586 Views

IFRAME_HTML

614 Views

IFRAME_HTML

1479 Views

IFRAME_HTML

801 Views

IFRAME_HTML

1553 Views

IFRAME_HTML

357 Views

IFRAME_HTML

1256 Views

IFRAME_HTML

2378 Views

IFRAME_HTML

876 Views

IFRAME_HTML
1355 Views

IFRAME_HTML

295 Views

IFRAME_HTML

1527 Views

IFRAME_HTML

911 Views

IFRAME_HTML

873 Views

IFRAME_HTML

1834 Views

IFRAME_HTML

801 Views

IFRAME_HTML

1553 Views

IFRAME_HTML

3043 Views

IFRAME_HTML

1256 Views

IFRAME_HTML

2378 Views

IFRAME_HTML