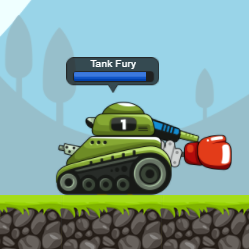 You need Adobe Flash Player to play Tank Fury.Click to use Flash
Tank Fury is a cool game. You control a single tank and must fight against other players to dominate the arena. You make use of the blue teleportation devices to transport to different areas of the level. As you progress, you tank is upgraded, it armor improves and you gain new and more devastating weapons too. When other players' tanks are destroyed, they will drop repair kits. Collecting them will repair your tank so you can survive longer. The game has 5 different tanks that you can choose from, each with different stats and weapons. Have fun.
Controls :
Use AD or left/right arrow to move tank.
Use left mouse or space bar to fire.
Use right mouse to punch.
Tags :