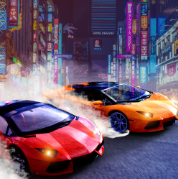 You need Adobe Flash Player to play Two Lambo Rivals: Drift.Click to use Flash
Two Lambo Rivals: Drift is a racing game that can be played online. The game is a two-person racing genre in which you and your opponent must pass through the rich city at night with the highest possible score, challenge your friends to win, and seat in the super automobile. Lamborghini automobile - the quickest sports car just for the kings of racing with full color, comes with two Lambo rivals: drift to display your talent and reach the pinnacle of glory.
Primary Function:
The game two Lambo rivals: drift comprises of two game modes called Drift and Drag Race that gain points and pass every frame to the finish line. In Drift mode, you must achieve the greatest possible score. In the allotted time, create a large number of slides with a constantly declining red region. To receive the award, you must overtake your opponent and finish first in drag racing mode. This fashionable car with a bonus comes in a range of colors and levels for you to select from. Begin your journey to become the Drift King!
Call your friends and family and begin unwinding with two Lambo rivals: drift. Tune in to your favorite automobile and enjoy the engine noises of the world's finest supercars. your own and overcome all the roads, achieving the greatest score to become the racing world's king. I hope you have a wonderful time fighting for the army with your family and friends. We - the red ball - will be with you in the entertainment moments here, honored!
Controls :
Use WASD and arrow keys to move.
Tags :