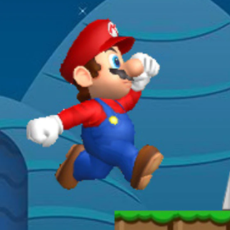 You need Adobe Flash Player to play Unfair Mario Run.Click to use Flash
Unfair Mario Run is a cool game. You try to avoid hidden traps and get to the final flag. Some traps will be trickier, and some obstacles harder to overcome. All you need to do is to survive for as long as you can. Let's see for ourselves. This game is full of tough challenges with dangerous obstacles and scary monsters fully set on the way to the finish line. The special thing in this game is that the traps are not always alerted, it will be hidden as a trap. Because things remember them when you have to play again. While you can spot them early by looking for indicators of where traps may be located, signs also indicate that a hole is near. Don't forget to lift the flag to save the position as a control point when you reach the flag. Collect coins as much as possible to get the highest score.
Unfair Mario Run based on the Mario character series will bring exciting and unexpected experiences to you during your leisure time.
Controls :
Use left and right arrows to move.
Use up arrow to jump.
Tags :
47 Views

IFRAME_HTML

45 Views

IFRAME_HTML

168 Views

IFRAME_HTML

96 Views

IFRAME_HTML

454 Views

IFRAME_HTML

236 Views

IFRAME_HTML

344 Views

IFRAME_HTML

571 Views

IFRAME_HTML

355 Views

IFRAME_HTML
454 Views

IFRAME_HTML

1609 Views

IFRAME_HTML

481 Views

IFRAME_HTML

423 Views

IFRAME_HTML

504 Views

IFRAME_HTML

881 Views

IFRAME_HTML

339 Views

IFRAME_HTML

581 Views

IFRAME_HTML

597 Views

IFRAME_HTML
168 Views

IFRAME_HTML

355 Views

IFRAME_HTML

1609 Views

IFRAME_HTML

877 Views

IFRAME_HTML

171 Views

IFRAME_HTML

489 Views

IFRAME_HTML

504 Views

IFRAME_HTML

304 Views

IFRAME_HTML

636 Views

IFRAME_HTML

891 Views

IFRAME_HTML
1019 Views

IFRAME_HTML

586 Views

IFRAME_HTML

614 Views

IFRAME_HTML

1479 Views

IFRAME_HTML

801 Views

IFRAME_HTML

1553 Views

IFRAME_HTML

357 Views

IFRAME_HTML

1256 Views

IFRAME_HTML

2377 Views

IFRAME_HTML

876 Views

IFRAME_HTML
294 Views

IFRAME_HTML

1527 Views

IFRAME_HTML

910 Views

IFRAME_HTML

873 Views

IFRAME_HTML

1830 Views

IFRAME_HTML

801 Views

IFRAME_HTML

1553 Views

IFRAME_HTML

3041 Views

IFRAME_HTML

1256 Views

IFRAME_HTML

2377 Views

IFRAME_HTML