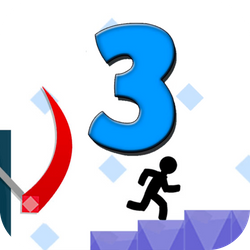 You need Adobe Flash Player to play Vex 3.Click to use Flash
Vex 3 is a cool platform game. You have to figure out how to overcome the obstacle, avoiding the deadly traps to reach the end. There are 10 regular acts to work through. Play new acts by standing on their act block and pressing the down arrow key. Remember that purple blocks are weak so they will fall down if you step on them. Orange blocks are super bouncy and are great if you want to jump high into the air. Stick Running - run endlessly as a stickman and avoid the obstacles. Have fun.
Next series: Vex 4
Controls :
Use the arrow keys or WASD to move.
Jump from side to side to climb up walls.
Tags :