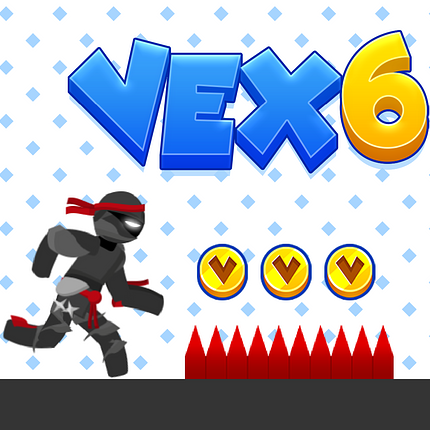 You need Adobe Flash Player to play Vex 6.Click to use Flash
Vex 6 is the 6th game in the popular Vex series of games. In this part, the game has some exciting new challenging features. As before you control a stickman through a series of difficult traps and obstacles to reach the end of each level.
How to play Vex 6
Your mission is to survive as long as possible. Along the way, you will constantly be slashed, shot by cogs, wheels, and much more. The only thing for you to overcome it is to practice a lot to master the skills of running, jumping, sliding, climbing. You also need judgment and agility to execute perfect actions. For example, you jump or fly through gaps while you dodge various hazards in a series of deadly obstacles.
Upgrade your Vex character
There are many rewards for you to earn and use to shop for your character. There's a bunch of awesome skins of varying rarity to unlock in the leather shop.
The game also offers high-quality graphics at 60fps, which gives players a great experience. Another deadly challenge awaits you in Vex 6. How long will you last in this fun adventure game? Are you ready to command this brave stickman and show off your acrobatic abilities while winning various achievements?
Controls :
Use AD or left/right arrow to move.
Use W or up arrow to jump.
Use S or down arrow to crouch.
Tags :
47 Views

IFRAME_HTML

45 Views

IFRAME_HTML

168 Views

IFRAME_HTML

96 Views

IFRAME_HTML

454 Views

IFRAME_HTML

236 Views

IFRAME_HTML

344 Views

IFRAME_HTML

571 Views

IFRAME_HTML

355 Views

IFRAME_HTML
454 Views

IFRAME_HTML

1609 Views

IFRAME_HTML

481 Views

IFRAME_HTML

423 Views

IFRAME_HTML

504 Views

IFRAME_HTML

881 Views

IFRAME_HTML

339 Views

IFRAME_HTML

581 Views

IFRAME_HTML

597 Views

IFRAME_HTML
168 Views

IFRAME_HTML

355 Views

IFRAME_HTML

1609 Views

IFRAME_HTML

877 Views

IFRAME_HTML

171 Views

IFRAME_HTML

489 Views

IFRAME_HTML

504 Views

IFRAME_HTML

304 Views

IFRAME_HTML

636 Views

IFRAME_HTML

891 Views

IFRAME_HTML
1019 Views

IFRAME_HTML

586 Views

IFRAME_HTML

614 Views

IFRAME_HTML

1479 Views

IFRAME_HTML

801 Views

IFRAME_HTML

1553 Views

IFRAME_HTML

357 Views

IFRAME_HTML

1256 Views

IFRAME_HTML

2377 Views

IFRAME_HTML

876 Views

IFRAME_HTML
294 Views

IFRAME_HTML

1527 Views

IFRAME_HTML

910 Views

IFRAME_HTML

873 Views

IFRAME_HTML

1830 Views

IFRAME_HTML

801 Views

IFRAME_HTML

1553 Views

IFRAME_HTML

3041 Views

IFRAME_HTML

1256 Views

IFRAME_HTML

2377 Views

IFRAME_HTML