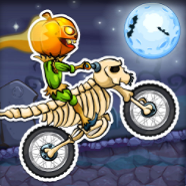 You need Adobe Flash Player to play Moto X3M Spooky Land.Click to use Flash
Moto X3M Spooky Land is a really cool moto game. It is an extreme sports game that offers extremely powerful experiences. The gameplay is similar to playing the original Moto X3M but in this part, you are immersed in the creepy darkness of Halloween night. You move forward inside a dangerous maze and try staying alive escaping dangerous obstacles while doing the craziest stunts. The quicker you are, the more stars you'll receive for that level. You can use your hard-earned stars to buy new bikes and riders like a witch on a moped or pumpkin on a motorcycle made of bones. Have fun.
The other parts are no less interesting as Moto X3M 4: Winter
Controls :
Use W or up arrow to accelerate.
Use A/D or left/right arrow to tilt.
Tags :
48 Views

IFRAME_HTML

46 Views

IFRAME_HTML

169 Views

IFRAME_HTML

97 Views

IFRAME_HTML

455 Views

IFRAME_HTML

450 Views

IFRAME_HTML

236 Views

IFRAME_HTML

344 Views

IFRAME_HTML

571 Views

IFRAME_HTML

355 Views

IFRAME_HTML
455 Views

IFRAME_HTML

450 Views

IFRAME_HTML

1612 Views

IFRAME_HTML

481 Views

IFRAME_HTML

423 Views

IFRAME_HTML

504 Views

IFRAME_HTML

882 Views

IFRAME_HTML

1353 Views

IFRAME_HTML

339 Views

IFRAME_HTML

581 Views

IFRAME_HTML

597 Views

IFRAME_HTML
1019 Views

IFRAME_HTML

586 Views

IFRAME_HTML

614 Views

IFRAME_HTML

1479 Views

IFRAME_HTML

801 Views

IFRAME_HTML

1553 Views

IFRAME_HTML

357 Views

IFRAME_HTML

1256 Views

IFRAME_HTML

2377 Views

IFRAME_HTML

876 Views

IFRAME_HTML
1353 Views

IFRAME_HTML

295 Views

IFRAME_HTML

1527 Views

IFRAME_HTML

910 Views

IFRAME_HTML

873 Views

IFRAME_HTML

1830 Views

IFRAME_HTML

801 Views

IFRAME_HTML

1553 Views

IFRAME_HTML

3041 Views

IFRAME_HTML

1256 Views

IFRAME_HTML

2377 Views

IFRAME_HTML