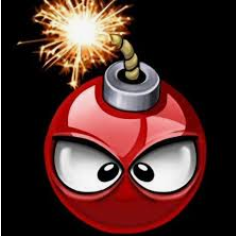 You need Adobe Flash Player to play Bomby.io.Click to use Flash
Bomby.io is a fun game. You control a small yellow emoji icon that grows larger as you collect the green gems found on the map. To grow quickly, place bombs wisely. Emojis will surround you as you approach, don't let them touch you if you don't want to get hurt, place bombs and destroy them, they will stun you and slow down your movement for a certain period of time, stay away from when the bomb explodes, and come back to collect loot. The red mines however will explode and cause high damage. You can use a speed boost to avoid a large cluster of mines or to escape your enemies.
Controls :
Use the mouse to move.
Left-click to drop a bomb.
Right-click to boost speed.
Tags :