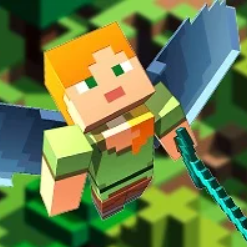 You need Adobe Flash Player to play CrazySteve.io.Click to use Flash
CrazySteve.io is a cool multiplayer-Minecraft game. You move around the map and collect the red bombs to create your TNT and the blue crystals to increase in size. You can plant 6 bombs at a time and you can push them in any direction you wish. Be sure to watch out for your own bombs and try to eliminate the other players by trapping them and destroying them with your TNT. With each new level, you increase slightly. Together with the volume, the ability of your character to Crazy Steve io to collect apples and glasses increases, but at the same time, you slowly slow down and become more vulnerable to attacks by fast rivals.
Controls :
Use left click to throw TNT.
Use right-click to boost speed.
Tags :