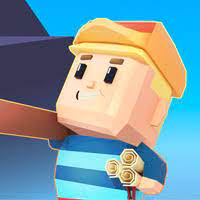 You need Adobe Flash Player to play Kogama Mountain Climber.Click to use Flash
Kogama Mountain Climber is an exciting challenge game. Your mission is to try to climb to the top of the majestic 3D mountain. Using the block builder to create a path for you to ascend up the mountain and beat your opponents. Remember that each block builder only has a 30 block capacity, so use it wisely. However, you can find more ammo or steal it from other players. As you progress, the environment changes and becomes increasingly challenging. Pleasure game offers a cool experience, can you find a way to climb the top of the mountain and catch the flag? Good luck.
Controls :
WASD or arrow keys to move.
Space bar to jump.
Q to the holster.
Left-click to build a block.
K to suicide and respawn.
Tags :
51 Views

IFRAME_HTML

447 Views

IFRAME_HTML

1151 Views

IFRAME_HTML

692 Views

IFRAME_HTML

832 Views

IFRAME_HTML

1702 Views

IFRAME_HTML

1009 Views

IFRAME_HTML

1907 Views

IFRAME_HTML

388 Views

IFRAME_HTML

1424 Views

IFRAME_HTML

2626 Views

IFRAME_HTML
393 Views

IFRAME_HTML

543 Views

IFRAME_HTML

408 Views

IFRAME_HTML

1825 Views

IFRAME_HTML

328 Views

IFRAME_HTML

1209 Views

IFRAME_HTML

751 Views

IFRAME_HTML

250 Views

IFRAME_HTML

212 Views

IFRAME_HTML

712 Views

IFRAME_HTML

727 Views

IFRAME_HTML
2646 Views

IFRAME_HTML

504 Views

IFRAME_HTML

1998 Views

IFRAME_HTML

1137 Views

IFRAME_HTML

988 Views

IFRAME_HTML

2099 Views

IFRAME_HTML

1009 Views

IFRAME_HTML

1907 Views

IFRAME_HTML

3505 Views

IFRAME_HTML

1424 Views

IFRAME_HTML

2626 Views

IFRAME_HTML