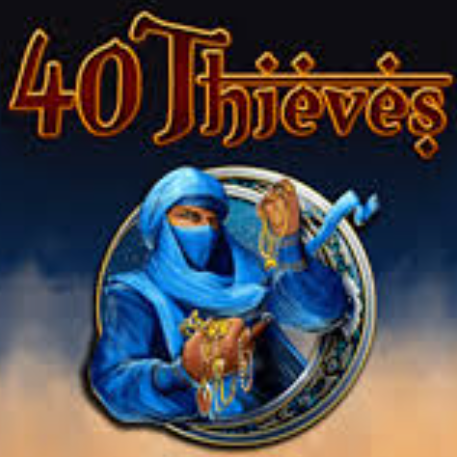 You need Adobe Flash Player to play Forty Thieves.Click to use Flash
Forty Thieves is a cool game. Forty Thieves is the classic version of the game that most people are likely familiar with since it's been included as a default game. Your goal is to move cards from the tableau to the eight foundation piles. You are only allowed to pass through the waste pile once, so resetting the deck is not allowed. You will have to restart if you have used all the stock cards and cannot put all the cards on the foundation. Good luck.
Controls :
Use left click mouse to play.
Tags :
51 Views

IFRAME_HTML

447 Views

IFRAME_HTML

1151 Views

IFRAME_HTML

690 Views

IFRAME_HTML

832 Views

IFRAME_HTML

1702 Views

IFRAME_HTML

1009 Views

IFRAME_HTML

1907 Views

IFRAME_HTML

388 Views

IFRAME_HTML

1424 Views

IFRAME_HTML

2626 Views

IFRAME_HTML
2646 Views

IFRAME_HTML

504 Views

IFRAME_HTML

1998 Views

IFRAME_HTML

1137 Views

IFRAME_HTML

988 Views

IFRAME_HTML

2099 Views

IFRAME_HTML

1009 Views

IFRAME_HTML

1907 Views

IFRAME_HTML

3505 Views

IFRAME_HTML

1424 Views

IFRAME_HTML

2626 Views

IFRAME_HTML
1222 Views

IFRAME_HTML

918 Views

IFRAME_HTML

1771 Views

IFRAME_HTML

6207 Views

IFRAME_HTML

461 Views

IFRAME_HTML

662 Views

IFRAME_HTML

992 Views

IFRAME_HTML

2230 Views

IFRAME_HTML

1209 Views

IFRAME_HTML

614 Views

IFRAME_HTML

275 Views

IFRAME_HTML