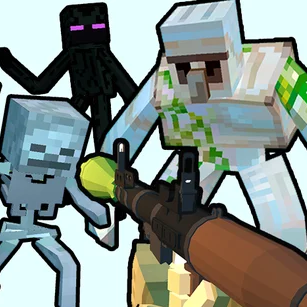 You need Adobe Flash Player to play Mine Shooter.Click to use Flash
Mine Shooter is a fun shooting game themed around the popular sandbox video game. Mine Shooter is here to help you fight back against the hordes of the undead. You must be able to withstand an enemy attack. Assault rifles, pistols, sniper rifles, shotguns, submachine guns, grenade launchers, and bazookas are all at your command. Skeletons can be killed by shooting them, but beware of zombies. Do what you do best and save the world. Before they explode and inflict damage on you, aim to shoot the invaders. Keep your distance from the enormous stone golems and use your weapons as best as you can. Watch out for spooky skeletons and a horde of zombies. What do you think of your chances of surviving? It's time to show off your abilities and save the world.
Controls :
Use Mouse to look around.
Use WASD to move.
Use W + Shift to Run.
Use pace to jump.
Use Left Mouse Button to Shoot.
Use Right Use Mouse Button (Hold) to Aim.
Use Mouse wheel to next/leading weapon.
Use 1-7 to weapon hotkeys.
Use R to reload, Use F to knife attack 1.
Use Q to knife attack 2.
Use G to throw a grenade.
Use T to inspect the weapon.
Use E to remove weapon.
Tags :
47 Views

IFRAME_HTML

45 Views

IFRAME_HTML

168 Views

IFRAME_HTML

96 Views

IFRAME_HTML

128 Views

IFRAME_HTML

454 Views

IFRAME_HTML

450 Views

IFRAME_HTML

236 Views

IFRAME_HTML

344 Views

IFRAME_HTML

571 Views

IFRAME_HTML

355 Views

IFRAME_HTML
128 Views

IFRAME_HTML

1019 Views

IFRAME_HTML

586 Views

IFRAME_HTML

614 Views

IFRAME_HTML

1479 Views

IFRAME_HTML

801 Views

IFRAME_HTML

1553 Views

IFRAME_HTML

357 Views

IFRAME_HTML

1256 Views

IFRAME_HTML

2377 Views

IFRAME_HTML

876 Views

IFRAME_HTML
455 Views

IFRAME_HTML

236 Views

IFRAME_HTML

878 Views

IFRAME_HTML

481 Views

IFRAME_HTML

171 Views

IFRAME_HTML

163 Views

IFRAME_HTML

423 Views

IFRAME_HTML

504 Views

IFRAME_HTML

339 Views

IFRAME_HTML

295 Views

IFRAME_HTML

857 Views

IFRAME_HTML
1353 Views

IFRAME_HTML

294 Views

IFRAME_HTML

1527 Views

IFRAME_HTML

910 Views

IFRAME_HTML

873 Views

IFRAME_HTML

1830 Views

IFRAME_HTML

801 Views

IFRAME_HTML

1553 Views

IFRAME_HTML

3041 Views

IFRAME_HTML

1256 Views

IFRAME_HTML

2377 Views

IFRAME_HTML
1170 Views

IFRAME_HTML

876 Views

IFRAME_HTML

1753 Views

IFRAME_HTML

5210 Views

IFRAME_HTML

451 Views

IFRAME_HTML

650 Views

IFRAME_HTML

976 Views

IFRAME_HTML

2158 Views

IFRAME_HTML

1192 Views

IFRAME_HTML

606 Views

IFRAME_HTML

233 Views

IFRAME_HTML