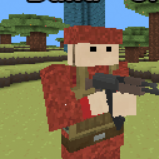 You need Adobe Flash Player to play Voxiom.io.Click to use Flash
Voxiom.io is a multiplayer first-person game. You play featuring destructible maps. You must build, craft, and shoot strategically to achieve victory. You must carefully manage their inventory to hold the most important items to ensure their victory. You can craft basic items in your inventory. Please upgrade your weapon, higher tier weapons have better stats such as damage and reload time. Are you ready to fight and chat with everyone?
Controls :
Use WASD to move.
Use Space bar to jump.
Use X - open inventory.
Use C to crouch.
Use Shift to sprint.
Use Tab to view map.
Use mouse to primary action on item: shoot, use item, consume Item.
Use Right Mouse Button or F to secondary action on item: aim, switch block placement mode.
Tags :