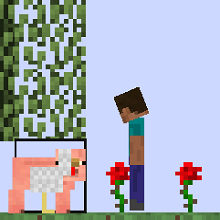 You need Adobe Flash Player to play Paper Minecraft.Click to use Flash
Paper Minecraft is a cool 2D version of the legendary building game Minecraft. This is also a survival game that requires ingenuity and experience. Learn those skills over time. There are many different modes and interfaces that make your playing experience richer. Your task is to must gather resources and food to stay alive and build a settlement for yourself to live in. Mine stone and wood to make tools and use these tools to mine more advanced materials to build structures with. Use a variety of different materials to build cities, castles and whole worlds. The creativity in this game is endless. Enjoy and explore it!
Discover other interesting 2D games like Slop Game and skribbl io
Controls :
Use WASD or arrow keys to move.
Use Left-click to dig or place a block.
Use E to open inventory or chest.
Use F to eat and hold the item.
Space bar to split an item from the stack in the crafting menu.
Tags :
48 Views

IFRAME_HTML

46 Views

IFRAME_HTML

169 Views

IFRAME_HTML

97 Views

IFRAME_HTML

128 Views

IFRAME_HTML

455 Views

IFRAME_HTML

450 Views

IFRAME_HTML

236 Views

IFRAME_HTML

344 Views

IFRAME_HTML

571 Views

IFRAME_HTML

355 Views

IFRAME_HTML
128 Views

IFRAME_HTML

1019 Views

IFRAME_HTML

586 Views

IFRAME_HTML

614 Views

IFRAME_HTML

1479 Views

IFRAME_HTML

801 Views

IFRAME_HTML

1553 Views

IFRAME_HTML

357 Views

IFRAME_HTML

1256 Views

IFRAME_HTML

2377 Views

IFRAME_HTML

876 Views

IFRAME_HTML
1353 Views

IFRAME_HTML

295 Views

IFRAME_HTML

1527 Views

IFRAME_HTML

910 Views

IFRAME_HTML

873 Views

IFRAME_HTML

1830 Views

IFRAME_HTML

801 Views

IFRAME_HTML

1553 Views

IFRAME_HTML

3041 Views

IFRAME_HTML

1256 Views

IFRAME_HTML

2377 Views

IFRAME_HTML