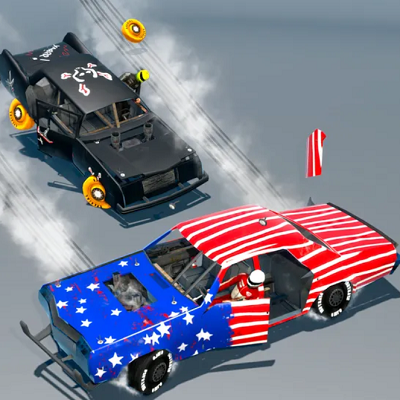 You need Adobe Flash Player to play Derby Crash.Click to use Flash
Derby Crash is an exciting car destruction simulation game. You get involved in a competition by crashing cars into other people to destroy their vehicles as possible. The last driver whose car is still functional wins the competition. The game lets you perform amazing stunts by jumping on the ramps. It also features portals that can teleport you to other locations in the game. Discover the different maps in the game. Have fun.
Controls :
Use WASD or arrow keys to drive.

Use

Enter to unflip the car.

Use

Space bar to use handbrake.

Use

C to change camera.

Use

T to enter slow-mo.
Tags :
48 Views

IFRAME_HTML

46 Views

IFRAME_HTML

169 Views

IFRAME_HTML

97 Views

IFRAME_HTML

128 Views

IFRAME_HTML

455 Views

IFRAME_HTML

450 Views

IFRAME_HTML

236 Views

IFRAME_HTML

344 Views

IFRAME_HTML

571 Views

IFRAME_HTML

355 Views

IFRAME_HTML
128 Views

IFRAME_HTML

1019 Views

IFRAME_HTML

586 Views

IFRAME_HTML

614 Views

IFRAME_HTML

1479 Views

IFRAME_HTML

801 Views

IFRAME_HTML

1553 Views

IFRAME_HTML

357 Views

IFRAME_HTML

1256 Views

IFRAME_HTML

876 Views

IFRAME_HTML
455 Views

IFRAME_HTML

236 Views

IFRAME_HTML

878 Views

IFRAME_HTML

481 Views

IFRAME_HTML

171 Views

IFRAME_HTML

163 Views

IFRAME_HTML

423 Views

IFRAME_HTML

504 Views

IFRAME_HTML

339 Views

IFRAME_HTML

295 Views

IFRAME_HTML

857 Views

IFRAME_HTML
1353 Views

IFRAME_HTML

295 Views

IFRAME_HTML

1527 Views

IFRAME_HTML

910 Views

IFRAME_HTML

873 Views

IFRAME_HTML

1830 Views

IFRAME_HTML

801 Views

IFRAME_HTML

1553 Views

IFRAME_HTML

3041 Views

IFRAME_HTML

1256 Views

IFRAME_HTML
581 Views

IFRAME_HTML

748 Views

IFRAME_HTML

2391 Views

IFRAME_HTML

3415 Views

IFRAME_HTML

12117 Views

IFRAME_HTML

2376 Views

IFRAME_HTML

10266 Views

IFRAME_HTML

1165 Views

IFRAME_HTML

8627 Views

IFRAME_HTML

4703 Views

IFRAME_HTML

2006 Views

IFRAME_HTML