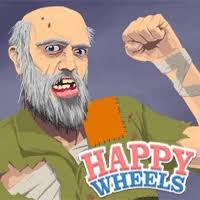 You need Adobe Flash Player to play Happy Wheels.Click to use Flash
Happy Wheels is a side-scrolling, physics-based, obstacle course game with over a billion plays online. Happy Wheels is a bloody and entertaining action game that has you playing through a plethora of different levels with over a dozen unique characters. The first character is Wheelchair Guy, a slightly ragged-looking older man in a jet-powered wheelchair. The other two original game characters are Irresponsible Dad, and Effective Shopper, who rides a mobility scooter. In order to make your way to the end of each level, you will have to get past all the obstacles hindering you. Or you could just play to watch your character get thrown around the level and break every bone in their body. Happy Wheels exhibits graphic violence in its gameplay. Happy Wheels features a level editor, which allows players to create custom levels of their own.
Controls :
Arrow keys to move.
Spacebar to shoot or jump.
Ctrl or Shift for secondary actions.
Tags :
10 Views

IFRAME_HTML

95 Views

IFRAME_HTML

72 Views

IFRAME_HTML

251 Views

IFRAME_HTML

189 Views

IFRAME_HTML

346 Views

IFRAME_HTML

152 Views

IFRAME_HTML

191 Views

IFRAME_HTML

637 Views

IFRAME_HTML

633 Views

IFRAME_HTML

280 Views

IFRAME_HTML
191 Views

IFRAME_HTML

1033 Views

IFRAME_HTML

603 Views

IFRAME_HTML

650 Views

IFRAME_HTML

1506 Views

IFRAME_HTML

825 Views

IFRAME_HTML

1598 Views

IFRAME_HTML

358 Views

IFRAME_HTML

1281 Views

IFRAME_HTML

881 Views

IFRAME_HTML
1534 Views

IFRAME_HTML

323 Views

IFRAME_HTML

1581 Views

IFRAME_HTML

941 Views

IFRAME_HTML

898 Views

IFRAME_HTML

1885 Views

IFRAME_HTML

825 Views

IFRAME_HTML

1598 Views

IFRAME_HTML

3122 Views

IFRAME_HTML

1281 Views

IFRAME_HTML
604 Views

IFRAME_HTML

754 Views

IFRAME_HTML

2396 Views

IFRAME_HTML

3419 Views

IFRAME_HTML

12127 Views

IFRAME_HTML

2385 Views

IFRAME_HTML

10269 Views

IFRAME_HTML

1170 Views

IFRAME_HTML

8640 Views

IFRAME_HTML

4709 Views

IFRAME_HTML

2007 Views

IFRAME_HTML