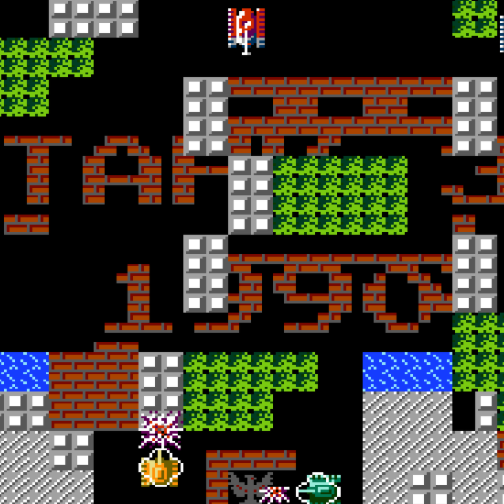 You need Adobe Flash Player to play Tank 1990.Click to use Flash
Tank 1990 is a multi-directional shooter video game. Your mission is control a tank, destroy the enemy tank in each level which enters the playfield from the top of the screen. Enemy tanks have mixed abilities like small tanks have armor like large tanks, large tanks appear without armor. You can collect random ace items when you hit the enemy tank. Game over if you loses all lives or the Eagle's base is destroyed.
Controls :
Use arrow keys to move.
Use space to fire.
Tags :
98 Views

IFRAME_HTML

342 Views

IFRAME_HTML

778 Views

IFRAME_HTML

943 Views

IFRAME_HTML

833 Views

IFRAME_HTML

557 Views

IFRAME_HTML

400 Views

IFRAME_HTML

4337 Views

IFRAME_HTML

777 Views

IFRAME_HTML

299 Views

IFRAME_HTML
833 Views

IFRAME_HTML

381 Views

IFRAME_HTML

475 Views

IFRAME_HTML

1241 Views

IFRAME_HTML

628 Views

IFRAME_HTML

1305 Views

IFRAME_HTML

299 Views

IFRAME_HTML

966 Views

IFRAME_HTML

1580 Views

IFRAME_HTML

1666 Views

IFRAME_HTML
807 Views

IFRAME_HTML

740 Views

IFRAME_HTML

695 Views

IFRAME_HTML

1494 Views

IFRAME_HTML

628 Views

IFRAME_HTML

1305 Views

IFRAME_HTML

2416 Views

IFRAME_HTML

966 Views

IFRAME_HTML

1580 Views

IFRAME_HTML

3490 Views

IFRAME_HTML
688 Views

IFRAME_HTML

2345 Views

IFRAME_HTML

3327 Views

IFRAME_HTML

11954 Views

IFRAME_HTML

2284 Views

IFRAME_HTML

10229 Views

IFRAME_HTML

1107 Views

IFRAME_HTML

8524 Views

IFRAME_HTML

4589 Views

IFRAME_HTML

1965 Views

IFRAME_HTML

3707 Views

IFRAME_HTML