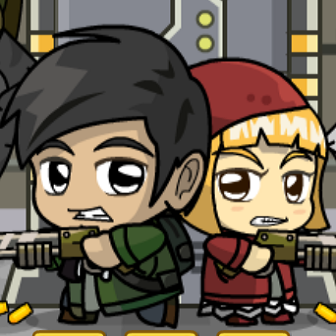 You need Adobe Flash Player to play Zombie Mission.Click to use Flash
Zombie Mission is an amazing two-player cooperative game. In this game, your mission must try to collect all of the floppy disks. You need to find survivors and bring them to safety at each level. You can use a variety of epic weapons to kill the zombies. The farther you go, the more difficulties you will encounter, then you need to build a reasonable strategy to open the door and solve the puzzle. You also need to save very important records from the hands of the zombies for humanity. Battle your way through the terrifying frozen North towards a new. Ascend to new terrifying heights in this 1-4 player mission, complete with new sinister locations to fight through, collectibles, achievements and more. This is the perfect game to play with your friends and try to eliminate the zombie menace.
Controls :
Male character controls: Left or right arrow to move, Up arrow to jump, F to shoot, Q to switch gun.
Female character controls: AD to move, W to jump, L to shoot, K to throw a grenade.
Tags :