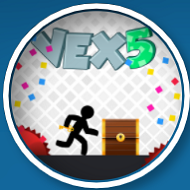 You need Adobe Flash Player to play Vex 5.Click to use Flash
Vex 5 is a fun climbing game, but also challenging. Anyone who has been or is in love with this game must not miss this part 5. Part 5 will be a much more difficult part than the previous ones. The labyrinth becomes more complex and traps more challenging. You're going to be repeatedly decapitated by spikes and spinning blades. You will have to practice many times to master space and time to have the best running techniques to level up. The standard game mode in Vex 5 features 10 stages. But there's an entirely new game mode. It is "Challenge Room". The challenge room is a timed marathon through 30 levels of deadly puzzles. Have fun.
Controls :
Use AD or left/right arrow to move.
Use W or up arrow to jump.
Use S or down arrow to crouch (enter an act).
Tags :